Introduction
Thermal Compound
As most intensive computer users know, a heatsinkís performance will not reach its full potential if it does not have proper thermal compound to accommodate it. As most users know, Arctic Silver reigns supreme as arguably one of the best name brand of thermal compound out there on the market. Their use of micronized silver solutions are known to provide the best transfer of heat from CPU cores the the heatsink base. Recently, within the last month, Arctic Silver had released Arctic Silver 5, their newest thermal compound. Most users probably want to know how much more performance will they get out of Arctic Silver 5 than from its old predecessor, Arctic Silver 3. Weíll see how much more of a difference there is between the two. Arctic Silver has updated their Instructions on how to apply the Arctic Silver Series compound so it is important that users go here http://www.arcticsilver.com/arctic_silver_instructions.htm).
OCZ Technology was kind enough to let us review their latest thermal compound, the OCZ Ultra II. For those who donít know, OCZ is one the most highly recognized for their RAM and their reputation is well known for their RAMís overclocking abilities. Much like the Arctic Silver Series Thermal Compounds, the OCZ Ultra II also consists of micronized silver to insure exceptional heat transfer.
Street prices:
Arctic Silver 5 ~ $5 (Pricewatch.com)
OCZ Ultra II ~ $9 (Newegg.com)
Arctic Silver 3 (Discontinued) ~ $6 (Pricewatch.com)
The Arctic Silver 3 used in this review is not officially part of our review, but only used for comparison purposes. The reason for this is mainly because Arctic Silver has discontinued the production of Arctic Silver 3 and therefore it is just used to compare against the 2 other compounds used in the review.
Comparison: Arctic Silver vs OCZ
It is stated by the manufacturers their compounds consist of silver but what we want to know is how much, and also what makes each compound different from each other. We will also factor in price with the comparision.
Arctic Silver 3

Arctic Silver 5

OCZ Ultra II

Silver Content by Weight

Over 75%

Over 88%

Over 70%

Purity of Silver

99.9%

99.9%

99.9%

Other Materials in Compound

Boron Nitride

Boron Nitride

Zinc Oxide

Aluminum Oxide

Unknown

Content Package Size

6 grams

3.5 grams /

12 grams

3 grams

Thermal Conductivity

>9.0 W/mK

>350,000W/m2 įC (0.001 inch layer)

8.0 W/mK

Thermal Resistance

<0.004įC-in≤/Watt (0.001 inch layer)

<0.0045įC-in2/Watt (0.001 inch layer)

>.06 C-in/Watt

Electrically Conductive

No

No

No

Price

$6

$5/$20

$6
Arctic Silver 3
Arctic Silver 3 is a discontinued thermal compound from Arctic Silver but is renowned for its exceptional performance in heat transfer. It contains over 75% silver by weight, which places its silver content weight roughly (and theoretically) somewhere between the OCZ Ultra II compound and the Arctic Silver 5 (no exact position can be placed since the manufacturers donít exactly what the percentage is in each solution).
Arctic Silver 5
Arctic Silver 5 is the current and latest thermal compound from Arctic Silver and is supposedly better than its predecessor, the Arctic Silver 3. It is quite strange how Arctic Silver decided to take a leap from AS3 to AS5, instead of AS3 to AS4. As soon as I find out, I will update the review
OCZ Ultra II
Although not as popular as Arctic Silver for thermal compound, the Ultra II thermal compound contains silver just like the other 2 Arctic Silver (AS) Compound. One thing that makes the Ultra II different from the AS compound is that it only contains 70% Silver by weight, which is the least compared to the Arctic Silver 3 and 5. Donít let the the big syringe fool you, it contains about 0.5g less compound than that of the Arctic Silver 5 tube. When applying the Ultra II to my Athlon CPU core, I found it not as easy to spread as the Arctic Silver.
By now, youíre probably bored as heck by all this mumbo jumbo and just want to know which compound keeps your CPU cooler. Letís check out the results on the next pageÖ.
Performance
Test Setup:
Processor

AMD Athlon XP 2800+ Barton

Motherboard

Gigabyte GA-7N400 Pro2 nForce2 Ultra 400

Graphics Card

XFX GeForceFX 5900

Hard Drive

Western Digital 200GB w/ 8 MB Cache

RAM

1GB Corsair PC3200 TwinX1024-3200LLPRO Dual Channel RAM (Review soon to come)

Case

Ahanix dboX

Cooling

CoolerMaster 80mm LED Fan (TLF-R82)

Colorful 120mm Fan

Enermax WS-8SLFS

Operating System

Windows XP Professional w/ Service Pack 1

Power Supply

Allied 400W PSU w/ Bottom Intake
To put CPU under stress ("Load"), Prime95 was run for 1.5 hours.
The Heatsink Fan used to test the thermal compound was the Coolermaster Aero 7 Lite at max RPM speed (~3668RPM)
Heat readings was in a closed case environment (in a somewhat poorly air circulated case) and were read by Gigabyte EasyTune4 v1.0 and verified with Speedfan v4.09
When idling, Arctic Silver 5 keeps the CPU coolest at 47oC, which is 1 degree less than the OCZ Ultra II. The AS5 cools 2oC better than the AS3, and so there was not that big a gap of performance difference.
Under load, the Arctic Silver 5 proves that it is still superior in cooling and cools 2oC better than the Arctic Silver 3. The AS5 also cools 3oC better than that of the OCZ Ultra II compound. The Arctic Silver 3 was able to cool better than the Ultra II compound by 1oC, which isnít really anything big.
All in all, Arctic Silver 5 managed to cool the best during both idle and load states. The OCZ Ultra II and Arctic Silver 3 are pretty much neck to neck when cooling. This makes the Arctic Silver 5 the ideal thermal compound to use
Conclusion
From our observation, there was only a slight difference in performance between the Arctic Silver 5 and Arctic Silver 3. The AS5 cooled about 2oC-3oC better than the AS3. The AS3 was pretty much on par with the OCZ Ultra II (the AS3 cooling 1oC better than the Ultra II during Load state while the Ultra II cooled 1oC better against AS3 during Idle state).
Arctic Silver 5: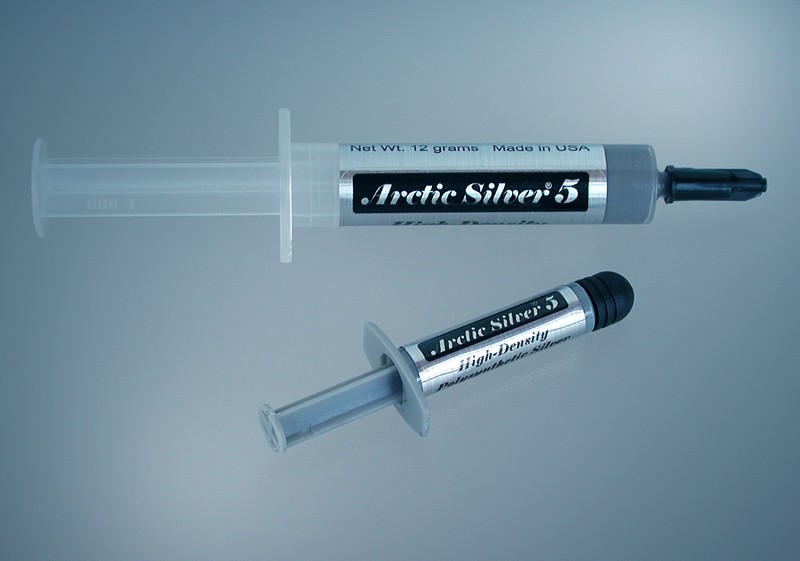 Pros
Superior Performance
Cost only $5 (pricewatch.com)
Easy to spread on CPU core
Cons
Only cools a few degrees better than the OCZ Ultra II and Arctic Silver 3
SLRating: 9.5/10
OCZ Ultra II:
Pros
Performs on par with the Arctic Silver 3
Cons
Not as easy to find as Arctic Silver (Pricewatch.com only displays Newegg.com)
Costs $9 (more than Arctic Silver 5) yet performs poorer
Harder to spread on CPU core compared to Arctic Silver
SLRating: 7.5/10
Hardware
Reviews, Articles, News, All Reviews...
Gaming
Reviews, Articles, News...
IT Jobs
Career Center, News Users, Login...
Regular Sections
A Guru's World, CPU/Memory Watch, SLDeals...
SLBoards
Forums, Register(Free), Todays Discussions...
Site Info
Search, About Us, Advertise...